Registries!
Welcome our or Wedding Registry. Like us it's a bit unique and mixed up so let's explain it a bit. First as odd and mundane as some of it may be it's all going to be useful providing you decide to get us anything. If you do decide to get us anything we thank you so much. We're not usually people who ask for stuff so this was a bit of a different thing for us.
http://tiny.cc/TargetRegis          http://tiny.cc/KohlsReg        http://tiny.cc/BBBReg
http://tiny.cc/AmazonReg          http://tiny.cc/ThinkGeekReg
Donate to:
Chuck Jones Art Print:
https://www.paypal.com/cgi-bin/webscr?cmd=_s-xclick&hosted_button_id=5P6ACMUUMUF38
Geekdom Wears Heat Press:
https://www.paypal.com/cgi-bin/webscr?cmd=_s-xclick&hosted_button_id=GMHW3M7NDJJES
The gifts here are going to be asymmetrical, atypical and interconnected just like us, our wedding and our lives so there isn't really a wrong thing to get period. As unique as the item may be on a wedding registry if it's on the list it's going to be useful to us as a washer, drier or toaster. As just one example: a seemingly regular convection oven. Yes it'll cook nicely, but we also need it to set the ink (cook) the sublimation printed ceramic cups and mugs for Geekdom Wear. If it's on a list we promise it fills a gap that you can help out with that would help us get started in being married and starting a life together.
All registries look for either Topher Davila or Jonelle Cobb, though we'll have links also.
Mailing
For those that are not coming to the southern California Wedding or the northern California reception, but still want to get us something when you order online or main it in mail it too:
Topher Davila / Inked Ideas
Box #152
18828 Brookhurst St.
Fountain Valley, Ca.  92708
IMPORTANT: Thought it has a box number it is NOT a USPS box. It's a box we keep to ship garments to at a local copy store so it can receive private carries like UPS and FedEx as well as the regular USPS.
Bed Bath & Beyond and Kohls
This is the typical bed and home stuff. You'd think that getting married later in life one would have the house stuff covered, but it's amazing the amount of stuff that you need when you either move out from a co-habitating / roommate situation or get married and suddenly there's all this stuff that's suddenly so important – like how the living space now needs to have colors that match.
These two are the places to help get our domestic place to live up to married standards.
Bed, Bath & Beyond
We registered at the one in Bella Terra but if you go to anyone ask for where the Wedding Registry is and they'll send the designated person over to help you bring up our information and show you what we put on our registration.
Notable items:
-          Convection oven
-          Vacuum cleaner
-          Stuff to set up our own bathroom and kitchen as it will be the first time that all the stuff in it will be ours.
-          Bed sheets and stuff (we're getting a new bed)
-          Cooking stuff
-          Towels
(Insert some here Jonelle)
Kohl's
There is a giant screen outside of customer service where you plug in your names and the registration comes up.
Notable items
-          More colorful kitchen stuff (Jonelle wanted a colorful kitchen)
-          Stuff to complete the bathroom
-          Towels
-          Bedding (no covers or sheets) stuff
-          Jonelle put some stuff here
-          Record to DVD converter
Target
While there is house hold items on this list this is where it gets more unique and has non household items.
For those on a budget this is the registry to check out as we have stuff like DVDs we never got to buy. For those that are not pots and pans people this one has electronics like a point and shoot camera we just never got to buying or an iPad Mini that beyond fun will be our register for our booth at different conventions we exhibit at.
-          Digital point and shoot cameras
-          Portable DVD and Blue Ray players
-          iPad Mini
-          (Jonelle put some smaller priced stuff here that is not DVDs)
-          Record to DVD converter
-          (online only) Halloween items that for us will be our regular year round décor.
Well it's actually more Gothic / Victorian stuff but that's where they put it.
Warning: The following registries require you to either have accounts for Amazon or Paypal or at least know how to get on and use the sites. Don't try to figure them out on our account if it's confusing. Just to the physical stores above. Half the reason we did a Target registry is so that people that don't know how to shop online can get something other than bedsheets.
Amazon
This is where we get to a lot of the stuff we never got to get due to buying shirts or paying for tables at shows. Thus it's a long list but it's all good to help with catch up.
IMPORTANT: If it's not an electronic or a toy/collectable, and especially if it IS a DVD or book, don't bother buying it new. I never buy new DVDs or books on Amazon and I save a lot of money for something that is identical or close enough that it doesn't matter in the end. This is especially helpful as buying used can drop the price by half or more at times off of the already low amazon price. One of the bigger items on our list plummets from $300 to $100 just because it's not "new". For the wedding list Amazon doesn't list "used" on the registry page so click on the item and go to its page and on that page you'll see used options.
Notable items:
-          MASH big whole series set
-          Art Of books. That's "Art of Tangled" or "Art of Incredibles", etc.
This is a near need for an illustrators library and Topher just never was able to get them as they were coming out and it would be great to jump start a library for these.
Especially buy used on these as the quality is just as good and a few are not in print anymore.
-          Disney Treasures Tin DVDs.
These are things we just never got to buying and Topher saw these specials on Vault Disney a lifetime ago and they are really great to see, and half of them are actually research believe it or not.
-          Any Hanna Barbera series or season DVD sets
This is actually reference and research Topher needs to build up for his next step in illustration and all priced pretty decently for those on a budget.
-          Any Andrew Lloyd Webber for Jonelle
-          Robotech Wholes Series DVD set
-          Toynami Robotech Alpha Fighter
It is recommended to buy new on this.
-          Toynami Robotech Beta Fighter
It is recommended to buy new on this.
Think Geek
This one mixes useless but fun extras with household stuff that we just couldn't find that we liked in regular stores
Especially notable Items:
-          One Small Step welcome matt
-          Various lamps that are more "us" like Pac Man and Tetris
Jonelle will love the Tetris lamp.
-          Cube laser keyboard
This will be especially helpful.
-          Periodic Table Shower Curtain
You'll notice there isn't a shower curtain on any other stores registry. This is the one that Jonelle picked put a long time ago.
Notable Items:
-          Geeky Ice makers
-          Titanium Spork
-          Dead Tauntaun sleeping bag (we'd like two if possible)
-          Thorins map or map or Middle earth (Jonelle's a ringer so this oddly is more for her than Topher)
Non registry / PayPal items
The following two items are not something that one person can buy due to cost, and for the heat press you need a resale license to buy it. Thus if you don't know what PayPal is you can bring a check or money order or cash or one of the visa gift cards to the wedding and write somewhere that it's for either the heat press or the Chuck Jones print. If you are not coming to either reception and are mailing it all those options except cash is good when mailing.
HOW TO PAY:
Directly click one of the buttons below for each item
OR
If you want to mail a check, send it to:
Topher or Jonelle Davila
P.O. Box 3319
Costa Mesa, Ca.
92628
This IS a USPS box so don't send UPS or FedEx to this.
OR log into Paypal with the info at the end of this.
Chuck Jones SIGNED Buck and a Quarter Staff print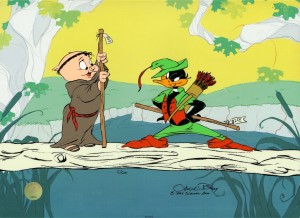 Right before Jonelle lost her job Topher started making payments on this thing. When Jonelle lost her job this was the first thing to go out. Now that we're getting back onto our feet it's been verified that the Chuck Jones Galleries has the same one that's been set aside and Topher can still get it. At a $1,300 price tag we don't expect to have wedding gifts pay for it, but it would be nice to have a large chunk of it hacked off to make the payments less or shorter.
CLICK THE LINK BELOW IF YOU WANT TO DONATE TO THE CHUCK JONES ART PRINT
https://www.paypal.com/cgi-bin/webscr?cmd=_s-xclick&hosted_button_id=5P6ACMUUMUF38
Why it's on here.
This is the kind of thing that we'll have for the rest of our lives and it would be nice to have a wedding memory attached to it, and for that price it's something that only some crowdsourcing can really help pay for. It's also the kind of thing that will only go up in price as time goes on.
Why it's cool.
This kind of print just isn't around anymore. The directly signed Chuck Jones prints (like the one that is set aside) were available when the gallery opened, are pretty much sold out now and going up and up and up in value. Next year this one will be 20 years old and I have no idea why it's still unsold. Chuck Jones was one of the major influences in Topher's life and while he's not big on signed stuff this is a singular exception.
Heat Press
Perhaps the unsexiest thing on this list, but to us it's more valuable than a washer, dryer or fridge we assure you and this helps make money. We are about to get working our fixer upper awesome shirt printer complete with a list of people that want us to print for them, but we currently have a loaner heat press and the one thing to check off on Geekdom Wear's list to really get going and be self-sufficient (read no need for printers any more) is this heat press. With this last equipment bought Geekdom Wear becomes something we can really take to a whole new level and we can act on a slew of business opportunities.
CLICK THE LINK BELOW IF YOU WANT TO DONATE TO GEEKDOM WEARS HEAT PRESS
https://www.paypal.com/cgi-bin/webscr?cmd=_s-xclick&hosted_button_id=GMHW3M7NDJJES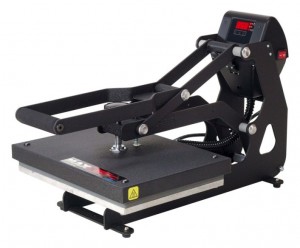 Also it's kind of a chicken and egg thing. We can't really get higher end clients with out it and we need higher end business to buy one an that's why it's more of crowd sourcing thing.
If you don't want to use the direct links for some reason here's another way to pay on Paypal.
1) Login into Paypal
2) Send money to the account tied to the following email account: Topher@inkedideas.com
IMPORTANT: Make sure it is marked as GIFT or DONATION and say which item you'd like your money to go to.
Stuff you will not notice on the registries:
China – we don't need China. At all. Jonelle has her Great Aunt's and Tophers dad sold it in the late 50's (and was one of the top sales men in the country for that company complete with the free care and everything) so its omission is not a mistake on the registration. We've got THREE sets!
Comments & Responses